The book that lifts the sheets on
how to sleep whenever you want.
__________________________________________________________

BUY THE KINDLE eBOOK HERE ONLY $2.99

BUY THE PAPERBACK HERE ONLY $19.99
__________________________________________________________

For you, this may be the most important book ever.

Being able to sleep when you want, for as long as you want, is the key to a successful airline career.

No other shift-workers suffer the same type of rosters as flight crew: early start one day, fly to a new time zone, try to sleep in a noisy hotel (complete with bedbugs), then come back late the next day, flying through the night. The following day an afternoon start and another back-of-clock flight. It never ends.

Written by a 31 year veteran, (who has only ever slept-in once), our Anonymous A380 Captain has all the tips and tricks to guarantee you master sleeping when you want, for as long as you want.

He pulls no punches and tells it like it is …

__________________________________________________________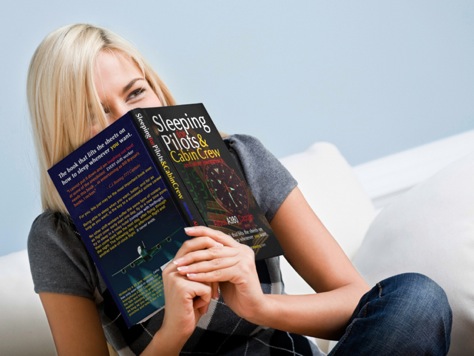 Sleeping For Pilots & Cabin Crew
(And Other Insomniacs)

consists of everything our pilot has learned about sleeping. Getting control of your sleep right now is the only way you can turn this job into a long-term career.

The book is divided into two parts. The first is an analysis of the twenty variables that can affect your sleep. The second is the 'how-to' section. Tips and tricks tested in the laboratory of life. They work under the harshest conditions in the world: the moving sleep cycle of the flight crew.

Like no-one else does it.

Fire fighters, police, doctors, nurses, shift workers all get a roster that allows a sign-on at the same time for up to six days in a row. They feel like crap, but they can get a routine going.

Aircrew rise with the sun, fly to a location, arrive in the late afternoon, have twenty-two hours off then fly back overnight, arriving before the sun rises on day three. On day four we sign on in the afternoon and fly until midnight. And so on. If we are travelling east and west then jet lag adds to the mix.

There are entire industries trying to sell you things to sleep faster, better, easier, softer and longer. Few of them work. Some are outright dangerous and can put your flight crew license at risk, not to mention the lives of your passengers. Our Captain has trawled through hundreds of websites and research papers to support the suggestions he offers in this book. Each one is listed in the footnotes so you can check the latest information.

This is the book you would have written if you had interviewed a few thirty-year veterans and spent about a year of your days-off trolling through the published research papers, newspaper and magazine stories and websites. He has tried to distill some heavy topics into light reading; and can guarantee that if you do everything he suggests, you will get control of your sleep and sleep better than you've ever slept before. If not, he will give you your money back.

The book is available on Amazon Kindle* as well in softback for those who like paper.



__________________________________________________________

TELL YOUR FRIENDS TO JUST SEARCH
SLEEPING PILOTS
TO GET TO THE AMAZON PAGE

__________________________________________________________

'No-one knows how long the nights are'


In a soft, broken voice, a dying famous footballer described the lot of the terminal cancer sufferer. You're dying, every minute counts and you are wide awake; but the hospital has decreed that you should be sleeping now.

Bugger them, you can sleep when you're dead.

It made us think:

It's like that in the New York hotel.


We're wide awake, there's nothing open except the Apple Store and the 24 hour diner next door. No room service (how can they call it a five star hotel if there's no room service between 11pm and 6am?), and by our body-clocks it's lunchtime.

No-one knows how long the nights are.

After thirty one years of sleeping in hotel rooms around the world, our Anonymous Airbus A380 Captain shares his tips and tricks to help you get the sleep needed to survive the unique world of the flight crew roster. (Since they're up all night, Other Insomniacs might also like to give it a read).

__________________________________________________________

*You don't need a Kindle eReader.

Instead, you can download the free Kindle app on your iPad, iPhone, Android phone or computer; allowing you to read Kindle eBooks. It's important that your iTunes is set an Amazon kindle-friendly country in order to see the book when the time comes to download it. But more of that later)